Dear Dwijendra,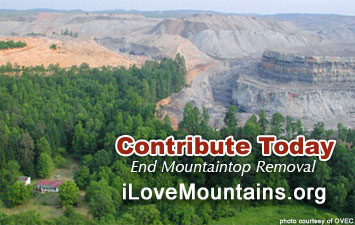 As winter sets in and you begin to reflect on the past year, as well as the year to come, we hope you will continue your commitment to iLoveMountains.org and the fight against mountaintop removal.
The upcoming 2012 elections mark a landmark opportunity to amplify the issue of mountaintop removal in the national political arena and demand that our elected officials take action once and for all to end the destruction in Appalachia. While we can not fight dollar for dollar with the coal industry's advertising campaigns this election year, our grassroots support is what will make our voices heard.
Can you make a contribution this holiday season?
http://www.iLoveMountains.org/donate
We've accomplished so much this year. Together, with the support of allies across the county, we defeated all attempts in Congress to roll back regulations on strip mining in the Central Appalachia. In addition we celebrated the historic veto of the Spruce No.1 Mine in Logan County, WV, which stopped mining on one of the largest strip mines in the region.
Not only have we seen victories on the federal level, but we've had victories in our home communities. EPA officials met with citizens in eastern Kentucky, southern West Virginia, and southwest Virgina for Environmental Justice tours in areas where mountaintop removal coal mining is occurring. In Tennessee, selenium limits were put into permit requirements for the first time ever.
We've had an incredible year despite all odds, and in order to carry those successes into 2012, we need your support. Whether you're able to contribute $10, $25, $50 or more, every dollar of your special year-end contribution goes directly to groups working to end mountaintop removal coal mining.
Click here to make a tax-deductible contribution today
Thank you for such an incredible year and for doing everything you can to help end mountaintop removal coal mining.
For the Mountains,
Matt Wasson
iLoveMountains.org
You are receiving this message because you expressed an interest in ending mountaintop removal coal mining to one of the partner organizations of www.iLoveMountains.org. To modify your subscription preferences, click here.