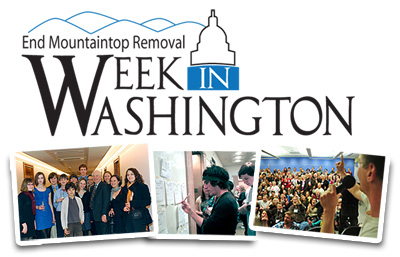 The 2012 elections mark a critical moment to make the issue of mountaintop removal coal mining a top priority issue in our nation's capital.
Can you join us in Washington, D.C., June 2-6, for our 2012 End Mountaintop Removal Week in Washington?
Washington, D.C. needs to hear from extraordinary citizens like you that our health, our water and our mountains matter -- and that's what the Week in Washington is all about. This year, we need participants who are willing to not only meet with their Congresspeople and agency officials, but also to stand up and take action to stop mountaintop removal coal mining. That's right, this year we will have a
Day of Action to End Mountaintop Removal
. There will be many ways you can participate in the Day of Action, from home and from Washington, D.C. -- so stay tuned for details!
Last year's Week in Washington was a tremendous success. More than 150 people from over 20 states came to Washington, holding over 200 meetings with Congressional offices, the EPA and the Obama administration.
Join us this year for Week in Washington!
You'll get to meet and work with other passionate Appalachian activists from around the country, learn to engage decision-makers and others in your community about the issue, meet face to face with legislators to inspire and educate them to end mountaintop removal coal mining and take action on this important issue!
Registration will open March 1, so save the date
! Full and partial scholarships are available on a needs-basis. Scholarship applications will be due by April 6.
Can't make it to Washington this year? Please consider sponsoring a participant
by donating today
.
We hope to see you in Washington!
For the mountains,
Matt Wasson
iLoveMountains.org
P.S. Please forward this invitation to friends or colleagues who may be interested in joining us in Washington.
You are receiving this message because you expressed an interest in ending mountaintop removal coal mining to one of the partner organizations of www.iLoveMountains.org. To modify your subscription preferences, click here.